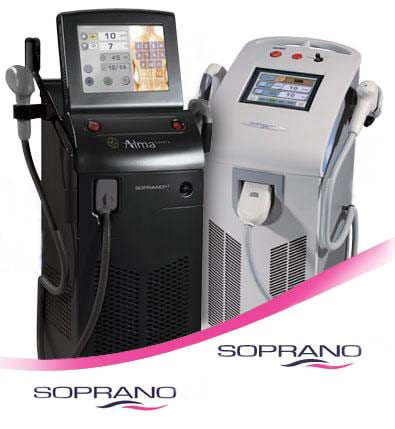 NEW SOPRANO ICE NIR SKIN TIGHTENING
Experience the power of SOPRANO ICE NEAR INFRARED TECHNOLOGY (NIR) skin tightening for improving skin laxity without surgery or downtime
SOPRANO ICE NIR SKIN TIGHTENING
The SOPRANI ICE NIR Skin Tightening laser is a new and effective treatment for improving skin laxity.
The procedure uses a safe infrared light to heat the water content in the tissue deep below the skin's surface causing fibres to contract and tighten to smooth out the fine lines and sagging skin.
The heat also stimulates fibroblast, which repairs cells in your skin to produce new collagen, creating long terms results.
What areas can be treated?
It can be used for face, neck, décolleté, upper arms, abdomen, knees and elbows.
How many treatments will I need?
This varies depending on the area being treated and condition of your skin. Our highly trained and experienced laser practitioner will advise you on the best course however in general, a series of up to six treatments at 3-4 week intervals is usually recommended to achieve the desired result of smoother, tighter skin.
When will I see results?
You should notice an immediate improvement following a treatment, however you will see further improvements develop gradually over a period of 1 – 3 months as new collagen is formed and your skin tightens further.
Will it hurt?
This treatment is virtually pain free. You will experience a warming sensation in the area being treated but most of our clients find this very relaxing and have been known to fall asleep during the treatment.
Courses
Same day treatment
Offer
Buy any 3 single treatments or more and get the cheapest 50% off
Courses Offer
Buy 3 or more Courses and get 15% off
Free Consultation