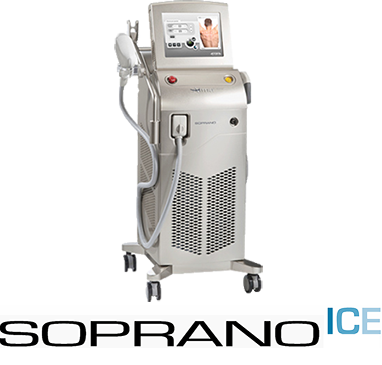 The Most Effective and Comfortable Method of Permanent Hair Reduction and Removal
Soprano is our flagship laser hair removal system based on the company's patented SHR technology – a clinically proven method of effective and virtually pain free hair removal.
In multiple clinical studies conducted by leading dermatologists, Soprano has been proven as safer, equally or more effective, and results in considerably less pain than other laser hair removal technologies. It can also be used all year round on all hair and skin types.
Soprano ICE cools the skin with an encircled sapphire tip, preventing surface burns while maintaining heat within the dermis. This high fluency delivery system provides an even more comfortable and faster treatment with improved results for light coloured and thin hair. A lighter and improved ergonomic design also means Soprano ICE is now even easier to use and can be used to treat smaller and difficult to target areas like the eyebrows, nose and ears. Soprano ICE – Cooler, Lighter, Smoother
Cooler treatment
The new ICE applicator cools the skin by integrating numerous cooling pumps within the applicator. Combined with the sapphire tip for contact cooling, treatments are more enjoyable than ever before.
Lighter applicator
The weight of the ICE applicator has been significantly reduced, making it one of the lightest hair removal applicators on the market. Without compromising on treatment effectiveness or patient safety, the new ICE applicator makes treatments more enjoyable for the practitioner, as well as the patient.
Smoother results
Soprano ICE with SHR technology is clinically proven as having the industry's highest coverage rate. The In-Motion technique collectively heats up and deactivates all the hair roots within a grid, rather than seeking individual chromosphores at the hair root.
Courses
Same day treatment
Offer
Buy any 3 single treatments or more and get the cheapest 50% off
Courses Offer
Buy 3 or more Courses and get 15% off
Free Consultation
Face Laser
Per Treatment
Current Offer
Courses of 3
Courses of 6
Eyebrow
£70
£29
£69
£145
Earlobes/nose
£70
£25
£60
£125
Sideburns
£80
£25
£60
£125
Upper lip
£70
£29
£69
£145
Chin
£70
£29
£69
£145
Jawline
£90
£39
£99
£195
Side face
£150
£45
£119
£225
Forehead
£120
£39
£99
£195
Full face
£190
£79
£219
£395
Neck (front or back)
£85
£39
£99
£195
Lip/Chin
£100
£55
£149
£275
Men's Laser
Per Treatment
Current Offer
Courses of 3
Courses of 6
Half arms
£200
£75
£209
£375
Full arms
£250
£99
£280
£495
Underarms
£120
£55
£149
£275
Shoulder
£140
£55
£149
£275
Lower back
£140
£55
£149
£275
Full back
£260
£135
£389
£675
Back and shoulder
£320
£175
£509
£875
Chest
£160
£75
£209
£375
Stomach
£210
£80
£220
£400
Chest and stomach
£260
£149
£430
£745
Half legs
£260
£99
£280
£495
Full legs
£320
£145
£419
£725
Ladie's Laser
Per Treatment
Current Offer
Courses of 3
Courses of 6
Underarms
£100
£45
£119
£225
Half arms
£170
£65
£179
£325
Full arms
£180
£89
£250
£445
Nipples
£60
£35
£89
£175
Lower back
£155
£49
£130
£245
Full back
£200
£89
£250
£445
Half Stomach
£115
£65
£179
£325
Full Stomach
£150
£125
£359
£625
Navel (stomach line)
£60
£39
£100
£195
Bikini line
£95
£55
£149
£275
Brazilian
£110
£79
£220
£395
Hollywood
£140
£85
£239
£425
Buttocks
£120
£75
£209
£375
Lower legs
£140
£79
£220
£395
Upper legs
£195
£85
£239
£425
Full leg
£250
£119
£340
£595
Feet/Toes
£70
£35
£89
£175
Toes
£60
£19
£40
£95